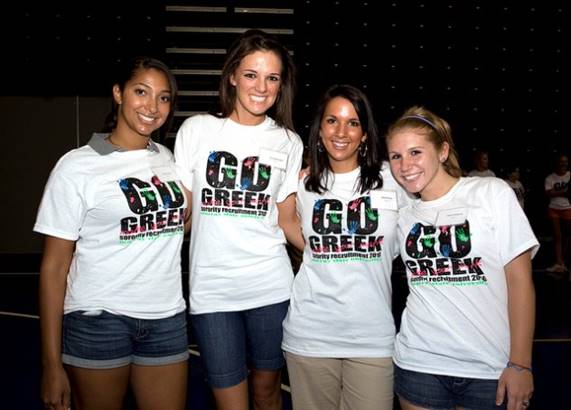 As soon as you enter into Greek life in your campus, there will be no feeling of homesickness as it provides unlimited opportunities for making friends across the globe and become a part of the fraternity and sorority members. You will not only enjoy the classroom sessions but also be a part of philanthropic ventures, recruitment, camping, parties, rush events and much more. The vibrant and colorful years at the campus helps to develop your career, boost your knowledge and getting an academic success, improves your hospitability as well as personality. Wherever you go, as an associate you must wear an outfit with proper dress code having the legendary Greek Letters, which becomes your identity and brags your supremacy throughout the lifetime. Everyone wants to own Greek apparel as it is a symbol of sorority and fraternity, so we have put some guidelines on what to wear during specific events that help you to stand out from the crowd.
Apparel for Recruitment – While choosing apparel, the difficult part is choosing the right sorority outfits. It is a no-brainer that for portraying your personality and aspire to have a competitive edge among others, a suitable outfit is a key. Without thinking too much, consult the reputed apparel designers from online who are there to help you out and place your orders a few days ahead of the big day. As you appear for the interview, have a formal dress that appears smart, elegant, and simple. Before placing the order, check the hem of the necklines of the cutting of the outfit that would help you to flaunt your persuasive personality.
Orientation Session – The orientation part is the staple of recruitment, and it is mandatory to attend, so your wardrobe must be ready with the right fitted Greek apparel. Although, the orientation is just like other normal days, as you will be presenting yourself to the sorority members for the first time, sporting a tee with shorts or fitted jeans will look satisfactory. If someone is opting for denim shorts that are ripped, make sure the pattern should be stylish. Others consider having a baggy shirt that matches their skirts which keeps them comfortable throughout the day and at the same time boasting their personalities.
Philanthropy and Camping – This is the fascinating phase when you have to work in concurrence with other members out of the college or university and provides you an opportunity in knowing each other in a friendly way at a more personal level. At the same time, you will learn how sorority lends a helping hand for helping the nation and the society. During this time no need for wearing formal attire and opt for a charming tee, jeans, sundress, and pairing up with a heeled sandal and accessories.
Volunteering Activities – A Greek Life member has to take part in outdoor volunteering activities like cleaning beaches, community awareness program, or charity. You need to have the right Greek apparel in your closet so that you can choose a suitable dress. Wear buttoned-up loose sleep shirts to long sweatshirts by pairing up with half jeans to keep you comfortable for long hours.
Preference Ceremony – This is one of the occasions where you need to wear colorful and stylish Greek apparel for boasting your taste and individuality to the sorority members. Look for authorized designer stores and choose custom designed tees, floral printed top, full zipped sweatshirts with half sleeves, which are popular among the younger lot. Pair your attire with a chunky necklace and fitted jeans.
Rush Ceremony – There is no official dress code, and it is time to sport your retro look so that your friends are mesmerized by your charm. To rock on the dance floor, it is best to wear pullovers, long-sleeved shirts, or tank tops during chilly nights. To flaunt your style and glam, you must choose the best designer stores who are popular among the Greek circle as they have the right knowledge of official Greek Letters, phrases, the right color that would pair with your outfit, no matter which event you will be wearing.