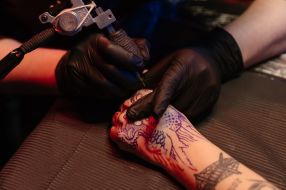 So you've decided to get a tattoo. You've chosen your design, and now it's time to determine where you'll get inked.
You're not alone, though. Tattoos seem to be more popular than ever. Nearly one-third of all Americans have at least one tattoo, and those who have more than one rarely stop there. Nearly 70% of them have two or more.
However, there are steps you can take to ensure that you love and are healthy with your new artwork. We've compiled all of the information you'll need to make your trip as simple, painless, and regret-free as possible.
In the United States, tattoo shops are regulated by state and local governments. The rules can differ from one state to the next, and even from one town to the next. Some neighborhoods may have no limitations at all. In five states, for example, minors can legally receive tattoos.
Now if you're searching for a tattoo parlor online, you should consult other people and read reviews. For example, if you search for the best tattoo shops in Miami (www.fametattoos.com/best-tattoo-shops-in-Miami), you will get websites and online directories of the best tattoo shops in Miami. But, everyone says that they are the best. So to know which ones are really the best tattoo shops in Miami, you should read some customer reviews regarding tattoo shops on Google. You should also consult some people who have got a tattoo before to know better.
Some things to look out for while choosing a Tattoo shop
1) An Attitude That Is Both Relaxed and Professional
The initial phone conversation or email sets the tone for the whole process. What do you think about them? Do they appear to be interested and helpful? Are they courteous and considerate? What is your first impression of the shop as you go in? Do you take a big breath and relax right away, or do you feel tense? Do they greet you with a "hello" and a "welcome"? All of these small details will reveal how they manage their business, as well as how seriously they take their work. It's a solid indicator of an excellent store if they take the time to get to know you, answer questions, listen to your ideas, and make you feel at ease.
2) A Clean Property
The sterility and cleanliness of the top-tier stores will be unquestionable. This is critical, and we cannot emphasize it enough. Their instruments should be handled as if they were those of a dentist or surgeon. Medical-grade needles and tubes should be used, and they should all be discarded. Everything should be sterilized and wrapped individually. The ink caps, which are used by artists to keep the ink, should be single-use disposable and new each time. If the workplace has tools that may be used several times, an autoclave is a must.
Artists, as well as anybody else assisting to prepare the workstation, should always use disposable gloves around the shop. This is true at every stage of the procedure. Shaving, disinfecting, applying ointment, tattooing, and cleaning are all steps in the tattooing process.
3) Obtain Feedback
When choosing the quality of a tattoo shop, word-of-mouth and the store's reputation are important factors to consider. Asking natives with tattoos where they got them is the easiest method to find out. Online, you may also discover useful reviews and comments. Sites like Yelp, Foursquare, and the Yellow Pages can help you find out what other people think about the tattoo business. Real views may also be found on forums or groups such as Reddit and Tattoo Hero.
4) Portfolios should be evaluated
Take a peek at the studio's catalog as well as the portfolios of its artists throughout your stay. You may be able to see portfolios online subsequently in many circumstances. You may get a sense of an artist's style by looking at their Facebook and Instagram pages. In the Analyzing A Portfolio section, we'll go through how to accomplish this in further depth.
You may also simply Google a tattoo shop's name to see what comes up.
In conclusion, getting a tattoo is a great experience but getting an infection isn't, so keep in mind these tips while choosing a tattoo parlor.