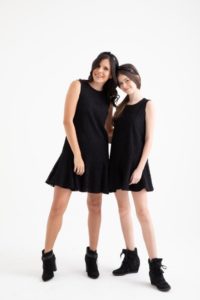 Fashion trends have been changing like wildfire over the years, especially in the section of mommy and me outfit. This trend has seen it's in and outs showcasing the changing consumer behavior of people and their thinking towards females and motherhood.
The curious history of mommy and me outfit fashion goes back in time to the early 30s and takes its popularity and youthfulness from that era changing with the course of time in terms of patterns, lengths, colors, pairing, etc. And while the era for this fashion trend was changing, so were the various brands and the advent of new ones happened as well. There is a reason why this trend has taken on people, particularly new or would be mothers, it keeps the duo well connected in more than just the usual maternal ways, below are a few points that have seen alterations and revamping in in the last few decades.
Reducing the gap: Moms have changed over the years; they have stopped reading the same old fashion magazines that they did while growing up. They have switched to social media that would keep them posted about the changing fashion trends. Mothers today have become more conscious about their fitness and health. They no more walk by the societal norms of dressing up in a stereotypical pattern. The generation gaps between mothers and daughters have reduced massively and now the duo likes to shop together and follow common social media celebs for styling tips. This has made their relationship stronger with more and more trends taking their space in the mommy and me outfit wardrobe.
Turning into a role model: Gone are the days when daughters used to shy away from sharing their ideas and opinions with their mothers. Those daughters have become mothers and share a stronger relationship with their daughter free of prejudice or hitch. Now daughters and mothers share moments, feelings, doubts, mommy and me outfits, and more. Mothers today are turning into an inspiration for their kids and their sense of fashion is something that is followed religiously as well.
Kids are posting more pictures with their mothers twinning on the dresses than they are doing with their siblings or best friends. This is the hot new trend of the market today. Mothers today dress up their toddlers in a smaller version of themselves and their adult daughters like a diva too. They have now learned to do it in the best of ways from the active social media use that is a part of their regular lives.
The fun in shopping together: Going shopping with either of your parents has been a tradition followed for years. But this time, it comes with a twist of having fun. Mothers do not have to drag their daughters to shopping malls with them anymore, now the kids have started suggesting new spots and best bargain places on their own. Now they like going shopping with their moms for an identical mommy and me outfit wardrobe to post pictures on social media. This also serves as a bonding time over shopping where you can make the heart to heart conversations. Talk deeply about what is going on in your mind and know about the other person as well.
Nowadays, there are more posts made by the kids with a date with mom tags than anything else, it is a trend followed by several youngsters. Celebrities are also promoting and supporting the culture of going shopping with their kids and twinning on clothes with them. This adaptation has made the idea all the more popular about women becoming ragingly fashionable for not just themselves but also their kids.